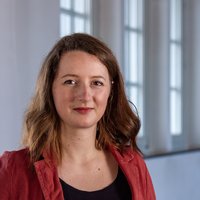 Academic Staff
Carina

Liebers

,
M.Sc.
Room:

SM 204a

Phone:

Email:
Publications:
Abdrabou, Yasmeen; Rivu, Radiah; Ammar, Tarek; Liebers, Jonathan; Saad, Alia; Liebers, Carina; Gruenefeld, Uwe; Knierim, Pascal; Khamis, Mohamed; Mäkelä, Ville; Schneegass, Stefan; Alt, Florian:

Understanding Shoulder Surfer Behavior Using Virtual Reality

. In:

Proceedings of the IEEE conference on Virtual Reality and 3D User Interfaces (IEEE VR)

. IEEE, Christchurch, New Zealand 2022. CitationAbstractDetails

We explore how attackers behave during shoulder surfing. Unfortunately, such behavior is challenging to study as it is often opportunistic and can occur wherever potential attackers can observe other people's private screens. Therefore, we investigate shoulder surfing using virtual reality (VR). We recruited 24 participants and observed their behavior in two virtual waiting scenarios: at a bus stop and in an open office space. In both scenarios, avatars interacted with private screens displaying different content, thus providing opportunities for shoulder surfing. From the results, we derive an understanding of factors influencing shoulder surfing behavior.

Latif, Shahid; Agarwal, Shivam; Gottschalk, Simon; Chrosch, Carina; Feit, Felix; Jahn, Johannes; Braun, Tobias; Tchenko, Yanick Christian; Demidova, Elena; Beck, Fabian:

Visually Connecting Historical Figures Through Event Knowledge Graphs

. In:

2021 IEEE Visualization Conference (VIS) - Short Papers

. IEEE, 2021. doi:10.1109/VIS49827.2021.9623313CitationAbstractDetails

Knowledge graphs store information about historical figures and their relationships indirectly through shared events. We developed a visualization system, VisKonnect, for analyzing the intertwined lives of historical figures based on the events they participated in. A user's query is parsed for identifying named entities, and related data is retrieved from an event knowledge graph. While a short textual answer to the query is generated using the GPT-3 language model, various linked visualizations provide context, display additional information related to the query, and allow exploration.