Selected Publications
This page shows selected publications from the last years. For a detailed list please refer to the Google Scholar or DBLP page of Stefan Schneegass.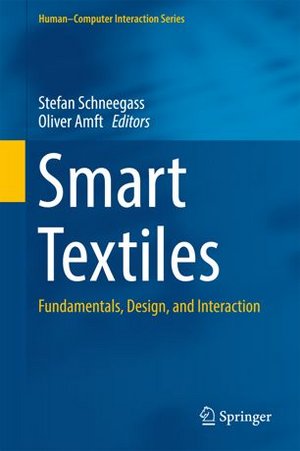 Type of Publication: Group of Editors
Smart Textiles - Fundamentals, Design, and Interaction
Editor:

Stefan Schneegass, Oliver Amft

Edition:

1st Edition

Publisher:

Springer International Publishing

Publication Date:

2017

ISBN:

978-3-319-50124-6

ISSN:

1571-5035

Digital Object Identifier (DOI):

Citation:
Abstract
From a holistic perspective, this handbook explores the design, development and production of smart textiles and textile electronics, breaking with the traditional silo-structure of smart textile research and development.
Leading experts from different domains including textile production, electrical engineering, interaction design and human-computer interaction (HCI) address production processes in their entirety by exploring important concepts and topics like textile manufacturing, sensor and actuator development for textiles, the integration of electronics into textiles and the interaction with textiles. In addition, different application scenarios, where smart textiles play a key role, are presented too.
Smart Textiles would be an ideal resource for researchers, designers and academics who are interested in understanding the overall process in creating viable smart textiles.